Return To: PART 1

Continue To: PART 3

WRITING YOUR OWN LETTER
You have already asked everyone else to send a letter to the parole board for you. Now it is time to construct your own letter. Your letter should be handed over to the parole board member or ready for you to read to them, or both, at the time you have your meeting. Usually this means your letter needs to be completed earlier than the people you have contacted submit theirs.

THIS LETTER IS VERY IMPORTANT!!. We feel that it is so important, we have devoted an entire page to this specific element of your parole meeting within this site. "HOW TO WRITE YOUR OWN LETTER TO THE PAROLE BOARD" will give you examples and make suggestions for additional help.




A NOTE ON GOING PUBLIC AND CONTACTING THE MEDIA

Should you go public and contact the media??? Only you can answer this question. Please think long and hard about your answer. Once you have decided to get the media involved, there is no looking back.
In the opinion of this author,
contacting the media should be your last resort.
It is the last
"ace up the sleeve"
you have, to try to stop your assailant from being set free. When you have no other alternative and have been informed as to the EXACT DATE your assailant will be released, contact any and all the media you can think of!!!
Contacting the media is a huge responsibility if you want to do it properly. Be ready to have questions asked that you aren't prepared to answer, to be quoted DIRECTLY in the newspapers, to give interviews where you are asked to recall the actual assault and to have people check into your background and the backgrounds of those people you associate with.
If you aren't capable of handling this kind of exposure or questioning, getting the media involved, FOR NOW, is not for you. Doing so at a later time, will be easier on you when you have decided to accept the responsibility to yourself, family and society that is involved and are emotionally equipped to handle all the pressures.
OTHER OPTIONS
There are other options outside of the media available to you that should be considered. When using any of these options, be sure to include all the information about your assailant that you have supplied to everyone else.

You may want to design and print out petitions and have these circulated. For example, friends and family could take them to work and ask co-workers to sign them. And I'm sure you have seen people standing at their grocery or market asking shoppers to sign their petitions for what ever purpose.
Petitions are also available to you, at no cost, on the Internet. Please see our RELATED LINKS page for this information. Petitions are not considered as important by the parole boards as individual letters, telephone calls or emails. But they are an effective tool for reaching a large number of citizens in any community.

You can create a web site or page to alert others about your assailant's up-coming parole review. When you are contacting people, offer them your URL. Ask them to view your site/page so they understand the magnitude of your request for input from the public to the parole board.
We have included the web site that this author and co-founder of Crime Survivor Guide did with her brother, to stop the release of her assailant,
GARY B. REECE,
in April, 2000. Please keep in mind that the original site title was
"UP FOR PAROLE!!!"
and has been updated since his parole was revoked.

Postings on the Internet in web sites, (such as those mentioned in our Related Links page) that ask for letters, phone calls and emails, is another option that meets with good response. Again, make sure to include the URL to your own web site/page in your posting.
TELEPHONE CALLS, LETTERS AND EMAILS FROM ALL OVER THE COUNTRY ARE WELCOMED BY ALL STATE PAROLE BOARDS.
Your posting can be sent out by others who view it, if you request this. You can end up having a huge number of emails and telephone calls directed to your parole board demanding your assailant remain incarcerated with this method. We have found this method to be very effective.
Click here to view, copy or print a sample of a brief letter/email that others can use and can be added to your posting.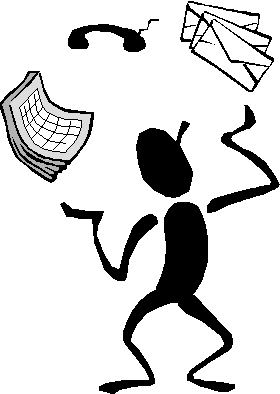 THE FINAL DETAILS
The week before you are scheduled for your meeting with the parole board, there are still many tasks for you to complete. Please be sure to follow through with them all. Doing so, will give you a feeling of accomplishment, a sense of peace and a boost to your self-confidence.

REVIEWING YOUR WORK

Start by checking your duplicate emails and letters to see who has contacted your parole board for you.
The letters that will have the biggest impact on the parole board are from the legal personnel, agencies, medical professionals and government officials. If any of these people have not written you directly or written to the parole board, a telephone call from you is now necessary. Time is running out!! Ask them if they have forgotten about the dead line or just over looked the importance of their help in keeping your assailant locked up.
If you have friends or family members who have not yet written, called or sent email to the parole board, please call them, too. LETTERS FROM FAMILY MEMBERS AND CLOSE FRIENDS ARE EXTREMELY IMPORTANT TO THE PAROLE BOARD!!
NICELY ASK them why they have not participated as you requested. You may find that they don't wish to get involved. They may give you many different reasons for not doing so: fear, being too busy, or simply not answer you. Tell them that you understand their reluctance and thank them for listening to you all this time. THIS REACTION FROM SOMEONE YOU THOUGHT WOULD HELP IS VERY COMMON!!!!
We have heard it all and have had it happen ourselves. It is very painful and makes you angry, but THERE IS NOTHING THAT YOU CAN DO TO CHANGE THEIR MINDS!!! So don't dwell on it. Just try to move on and accept it as you have everything else related to being a victim, who is learning to be a survivor.

Your letter should be in it's final draft stages now. Take what you already have written and send it out to other survivors who have been through the parole board process. This will allow them to check your work so that everything that is most important is included. Forgetting something does happen and can be caught and noted for you to add.
Survivors enjoy helping other survivors. This is one more way we help ourselves. If you don't have any one who you feel can help you, please send it to us here at CRIME SURVIVOR GUIDE and we will try to be of assistance.



Return To: PART 1

Continue To: PART 3


Feel Free To Contact CSG Anytime!
Simply CLICK THE BANNER BELOW
to E-Mail Crime Survivor Guide

Together,
We Are Survivors

Graphics Thanks To:
Hallmark Cards
Microsoft HomePublishing2000
Corel Photo
Original Art by:
Susan M. Grinstead & Kimberly J. Croft
The material contained within this web site is the
proprietary property of Kimberly J.Croft and Susan M. Grinstead,
co-owners and co-founders of Crime Survivor Guide,
and may not be used or reproduced without our written permission.
Copyrightę 2001 SMG, KJC. All rights reserved.