Apply for the C. S. G. "Excellence Award" & WINNING SITES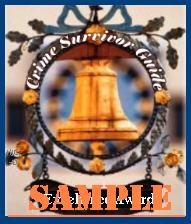 The Crime Survivor Guide "Excellence Award"
is presented to websites utilizing outstanding capabilities to showcase a comprehensive and panoramic view of a specific theme. Razzle-dazzle and up-to-the-minute technology are not necessary to qualify. Tasteful, clearly defined and informative content presented in a unique or well-planned design are emphasized.
Any website hinting at profanity, hatred, pornography, obscenity or unethical practices will not be considered.


The following criteria are among many that are taken into consideration
when evaluating each site:

CONTENT:
Must be interesting, informative, educational and/or provide enjoyment value that can be shared with others. Must have a well defined purpose that is consistent from the first page and carried throughout the entire site. Websites that simply contain "family pictures", philosophical impressions or unsubstantiated opinions need not apply.
Content is of greatest importance. Statistics and quotes require sources be included. Reproduced information must be annotated. Consistency is a must.

DESIGN:
Must be tasteful, attractive, or unique and presented with the website content in mind. Original, custom made graphics are a plus. Credit for other graphics a must. Gawdy, cluttered or too much of anything designs are not expedient.

USER FRIENDLYNESS:
Fast loading pages a must. Provide easily navigatable menus to any where on your site. Provide a quick and obvious method for turning off music. Be well maintained: no broken links, missing pages, broken images, updated regularly where/when required. Be accessible!!! Any site requiring passwords, memberships or fee payments in order to access them will be eliminated immediately.

If you believe your website meets these requirements,
please fill out the
CSG "Excellence Award" Application below.
I will visit your website and make my evaluation in 1-2 weeks.

Winners of the Crime Survivor Guide "Excellence Award"
will be notified by email at the earliest possible date.
THANK YOU!!!

Feel Free To Contact C.S.G. Anytime!
Simply CLICK THE BANNER BELOW
to E-Mail Crime Survivor Guide

TOGETHER,
WE ARE SURVIVORS

Graphics Thanks To:
Hallmark Cards
Microsoft HomePublishing2000
Corel Photo
Original Art by:
K. J. C. and S. M. G.
The material contained within this web site is the proprietary
property of K. J. C. and S. M. G., and may not be
used or reproduced without permission.
Copyrightę 2001-2006 KJC, SMG All rights reserved.