GETTING STARTED
Prior to the 1980's, there was little a victim could do about the length of their assailant's prison sentence. Since then, many laws have been passed, on the state and national level, granting victims the right to have an impact on the parole, probation and release process of an inmate. To keep these murderers, rapists and vicious criminals incarcerated, a good plan that is based on knowledge, hard work and dead lines, is the best way to get through the entire procedure.

The Co-Founders and Owners of Crime Survivor Guide, Kimberly and Susan, have BOTH been to parole meetings.
Whether you started in the 80's, as Kimberly did, or are a beginner at dealing with this very stressful and terribly upsetting process, as Susan was last year, one thing remains a constant:

PREPARATION MAKES A DIFFERENCE!!

NOTIFICATION

As simple as this may sound, the first thing you need to do is find out if and when your assailant is eligible for parole, probation or release. Many states now have laws that require them to provide victims/survivors with this kind of notification but that is no guarantee. Not being notified by the state, does happen.
So find out!
IT IS UP TO YOU TO KEEP YOURSELF INFORMED!!!

Search your state database if it is available. Only 20 states have this information on line for public use at this time (7-30-01). If your state isn't among them, don't fret. Call your Office of Victim Services. All 50 states victim services' offices are listed on the
VICTIM SERVICES page of this site.

Make sure you are registered with your state department of
Victim Services. This will enable them to contact you with information you request. It is now the law in many states to notify you with certain important information regarding your assailant. But it is also the law that you must be registered to receive these updates.


SO REGISTER TODAY!!

Using other addresses, together with your home address, to guarantee your notification, (your attorney's or support group's) is acceptable. But ask permission from these people before doing so.

After you have found out that your assailant is eligible for parole, probation or release, you must take action.

GATHERING YOUR INFORMATION
To keep track of your information is ESSENTIAL!!
Compiling all this information is the most difficult, time consuming and important part of your work.

You will need the following items to make your task easier:

Your favorite pen or pencil


A pad of paper or spiral notebook for notes


A three-ring notebook with loose leaf paper


A folder with pockets for storing loose papers that you need/use/draft/print during the course of your preparation.

Special folders in your computer, both in your email and in your favorites/bookmarks, for important sites and information you receive.


A manila envelope for storing all loose papers when you are finished.

You will be taking notes constantly. Having a pad of paper and your favorite pen that you can take with you and find quickly for note writing is a must. Phone numbers, names, addresses, sites, and URL's, are going to become a part of your work and should be written down. Transferring them into the three-ring notebook so that they are legible is also a good idea. This way, they are ready and available for the next time you need them without hunting through a stack of papers or searching for them in your computer.

Tips and thoughts from the people you contact should also be written down. You will get some very creative input from people when you are talking to them that may help you when you start drafting your own letter.

Don't forget to put your own thoughts on paper as you come up with them. No matter how foolish, nasty, silly or angry these thoughts and ideas may be, you could find yourself needing just such a statement or a similar one, for your own letter.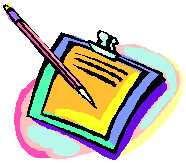 CONTACTING PEOPLE
Start out by making a To Contact list of EVERYONE you know. Include their home and/or business telephone numbers, email addresses and US postal address. If you don't have this information for each person immediately available, leave space so you can fill it in later.
Eventually, you will want to contact everyone on this list. Having this information all in one place will save you much frustration and anxiety during the course of your preparation. Click here if you would like to view, copy or print out our example of a "TO CONTACT" list.

Your State Victim Services Office should be your first telephone call.
You need to get in contact with the person who is going to help you throughout this entire process. He or she is called a VICTIM ADVOCATE. This person is going to be the main liaison between you, what is happening with your assailant and the entire parole board process. Make sure you keep a record of his/her name and telephone number for any questions you may want to ask about your assailant or the parole board procedures, now and in the future.
Ask your advocate for your assailant's inmate's identification number and the current location of his/her incarceration. You will also need the date which your assailant is scheduled to have a review regarding their parole, probation or release.
You can then ask your advocate to arrange a meeting between you and your state parole board so that you may convey to them your opinions about the parole, probation or release of your assailant.
It might be wise to inquire about what procedures are used by your state for your meeting. If you would like someone to accompany you to this meeting, ask your victim advocate what actions must be taken. Most parole board offices require prior notification if someone else is coming to the meeting with you.
Travel time and/or expenses may also be involved, so this is something that requires planning on your part. The date you are scheduled to attend this meeting and the date of your assailant's parole review will help establish the dead lines for the rest of your tasks.

IMPORTANT NOTE

In Ohio, we have an additional type of parole meeting. It is called a Full Board Hearing. This hearing is quite different from a regular parole meeting. These differences are detailed for you on a separate page within this site called How To: Prepare For A Full Board Hearing.
IF YOUR STATE PAROLE MEETING REQUIRES YOU TO MEET WITH
MORE THAN ONE MEMBER OF YOUR PAROLE BOARD, PLEASE SEE THESE PREPARATIONS AS WELL!!


If possible, begin your work approximately 2 months before your assailant's parole review. Starting any earlier will only create stress you don't need! It is advisable to start by contacting the people who have worked with you regarding this case. If you have less than two months before your assailant's review, don't stop with just these people. Contact EVERYONE immediately!
Ask them to send letters, make telephone calls and write emails to your state parole board on your behalf. These are just some of the ways you can make an impact on the parole boards' decision to release or deny parole and probation to your assailant.

Each person contacted is going to require specific information.

Have on paper and offer to each person you contact the following information: 1) your assailant's inmate identification number, 2) their current institution, 3) the date of your assailant's parole review, 4) the correct address, telephone number and email address of your state parole board. Be sure to supply everyone with the name of the person(s) all letters and inquiries should be directed to. Remember to use "Please" and "Thank you" with every request as you are asking for their help.

The police department, prosecutor and presiding judge are usually willing to send letters to the state parole boards on behalf of the victims/survivors. They don't want these criminals back on the streets any more than you do!

Any agencies, crisis centers or support groups that have helped you can be contacted and asked to send letters. Many of these groups are willing to offer you support for your meeting with the state parole board, too.

Medical professionals who have worked with you, such as clinics, psychiatrists. psychologists, counselors, dentists and/or doctors may be willing to send letters on your behalf. So be sure to include these people and places on your "To Contact" list.

Contact your state and federal government officials. Ask them to send letters to your parole board regarding the release, parole or probation of your assailant. Make sure you include all the information concerning your assailant as you have for everyone else. But also include a VERY BRIEF description of the crime(s) your assailant committed. "BRIEF" means any letter or email you send to them, should be no more than one printed page in length, with all information included.

Call your friends and family members and ask them to contact the state parole board, too. The more negative input from the public that a parole board receives, the more likely they are to keep your assailant incarcerated.

Please remember that some family members and friends are not able to write letters for their own reasons. All we can do is ask them to help. If they do so, that is a blessing and one more letter, email or call on your behalf. But if they don't, try to be understanding rather than upset. Not everyone deals with violence in the same way. Friends and family members will be supportive to us in their own way as we make the transition from victim to survivor.

There are many groups and organizations on the Internet that can be contacted that offer help to victims/survivors. Some of these groups are listed in the RELATED LINKS page of this site. Postings, emails and U.S. postal letters can be requested from these different groups. Print out copies for yourself of the emails and postings you do on line. This way you will have a copy of your own requests for your records.

Please keep in mind that every time a state parole board is contacted by a concerned citizen, they keep track of the calls, letters and e-mails.

NONE OF THE INFORMATION SENT TO A STATE PAROLE BOARD IS EVER REVEALED TO THE INMATES OR ANYONE ELSE!!!!! ALL LETTERS, EMAILS AND TELEPHONE CALLS ARE KEPT IN STRICTEST CONFIDENCE IN A FILE THAT IS ONLY ACCESSIBLE BY THE PAROLE BOARD MEMBERS!!

Since information is never revealed by the parole board, ask for duplicates of all letters and emails other people write to be sent to you as well. This way you can keep your own record as to who has written and what they have said.


Continue To: PART 2


Feel Free To Contact Us Anytime!
Simply CLICK THE BANNER BELOW
to E-Mail Crime Survivor Guide

TOGETHER,
WE ARE SURVIVORS

Graphics Thanks To:
Hallmark Cards
Microsoft HomePublishing2000
Corel Photo
Original Art by:
Kimberly J. Croft and Susan M. Grinstead
Copyrightę 2001 SMG, KJC All rights reserved.