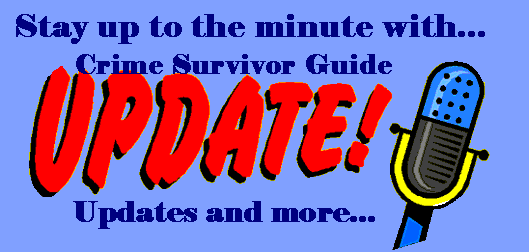 These MUST SEE UPDATES are added as I become notified of new and important information regarding the parole process and ANY IMPORTANT ISSUES to victims/survivors relating to either individual states or the entire U.S.

PLEASE SEND ANY NEW INFORMATION YOU HAVE.
STAYING INFORMED IS THE BEST WAY TO
KEEP OUR ASSAILANTS IN PRISON.

THANK YOU
~ Kimberly ;-D ~

WE NEED YOUR HELP!!
Please join the "STOP INMATES PAROLE!!!« " mailing list.
TOGETHER, we can help make a difference!!
Click on the link above
for more details.


PLEASE EXCUSE THE MESS!!!
EVERYTHING IS CHANGING!
New... URL, location, design, EVEN the NAME!.
To contact the owner/webmaster DIRECTLY
with any questions,
please email
Thank you for your patience and support.

CONTENTS
~ Protect Your Loved Ones!!! Make A Home-Made DNA Kit!! ~
~ CO. Sex Offenders MUST Go Free ~

Protect Your Loved Ones!!!
Make A Home-Made DNA Kit!!!
NO ONE expects their children or loved ones will be kidnapped or murdered. But they are!!! A Homemade DNA Kit for each of your loved ones' DNA can be simple and free!
You will need for each person/kit:
2 heavy duty zip-lock freezer bags; 1 large and 1 small
Latex gloves
Q-Tip-type swabs
Fingernail clippers
3 clean sheets of plain white paper
Please follow carefully all directions.
In the event your child or loved one is missing,
please give this kit to your local law enforcement or the FBI.
1) Cut 20 or so head hairs close to the scalp and wrap in white paper. (You do not need the hair root) FOLD, do not tape, the paper so it will hold the hairs.
2) Clip fingernails and wrap in a separate piece of white paper. Again, FOLD, do not tape, the paper so it will hold the nail clippings.
3) To collect buccal swabs (from inside the mouth), follow this carefully. Make sure the child or loved one doesn't eat or drink anything for at least 1/2 hour prior to collecting the samples for the kit.
TAKING BUCCAL SAMPLE
Wear latex gloves. Collect sample by rolling swab around inside the cheek for about 10 seconds. Take 2 samples from each cheek. Place the swabs on a separate white paper to air dry (30-60 minutes). Place the 4 dried Q-tip swabs in small zip lock bag and seal immediately. 4) Place the individual white folded papers containing the hair samples, fingernails and small Q-tip baggy in second large zip-lock bag and seal.
5) Label the large bag with: the person's name, date of collection and who took the samples.
6) Store in a safe place in your freezer
DNA Samples will keep for many years, maybe forever!!!
So occasionally check the condition of the outside bag for rips or tears.
These instructions came from Special Agent Joseph Errera, a forensic expert at the FBI Academy in Quantico, Virginia.



'Emergency' Cell Phones
If you use your mobile phone only for emergencies, or less than an average of 20 minutes per month, and you just want the cheapest deal you can get, buy a prepaid plan. The savings over monthly plans are significant.
For instance, one company recently offered 74 minutes of service, which you must use in a 90-day period, for $20 (prepaid, of course). That would give you an average of 24 minutes per month for 3 months, for a total of $20, far cheaper than any monthly plan. If you run out of minutes before 90 days is up, you can purchase another prepaid plan simply by making a phone call. If you don't use all the minutes in 90 days, the remaining minutes can be rolled over to your next 90-day prepaid deal.
Many wireless service providers offer similar prepaid plans. Check it out and compare deals at your local wireless providers.
It has also been noticed that in most cases, these cell phones allow you to dial 911 for emergencies, whether or not you are paying for additional time!!

Dangerous Legislation?
Colorado Court Decides Two Laws Mean Sex Offenders Must Go Free
The Colorado State Supreme Court ruled last year that sex offenders convicted between 1993 and 1998 were wrongly sentenced to lengthy parole terms.
More than 350 convicted sex offenders either will be released from prison or freed from supervised parole in Colorado in coming weeks as a result of a state Supreme Court ruling.
The first 43, including child molesters and rapists, were released from prison Tuesday. They were given $100 and their own clothes and ordered to register as sex offenders within 72 hours. Another 29 could be released today and 44 other inmates whose cases must be reviewed by their sentencing judges could also soon be released. Also on Tuesday, another 155 sex offenders were notified by their parole officers that they are no longer on parole.
The state Supreme Court ruled last year that sex offenders convicted between 1993 and 1998 were wrongly sentenced to lengthy parole terms. On Monday, the court voted 4-3 that it would not rehear arguments from the state attorney general's office on two cases that were affected by the ruling, and that opened the gates.
The ruling resolved a discrepancy between two state laws regarding parole. The prisoners who are being released were all jailed for parole violations, but now must be freed because the high court ruled they couldn't have violated a parole they were never on.
Another 250 who were on mandatory parole are now free from having to check in with a state parole officer.
Confusing Statutes
The decision could mean that eventually more than 1,500 sex offenders are released without being subject to parole restrictions.
"If they've done all of their prison time, once they're released they cannot be placed on parole," Deputy Attorney General Ken Long said.
Though the decision frees them from facing parole restrictions, it doesn't mean they will be free from having to register with police as sex offenders.
In a statement released after the court's decision Monday, Colorado Attorney General Ken Salazar said his office "took every legal step available to us in challenging the Court's rulings and to try to ensure that persons convicted of sexual offenses, many of whom preyed on our children and women, be placed on mandatory parole once they served their term of incarceration. We exhausted those legal options in challenging the Court's decisions, but in the end fell one justice short of prevailing because of the confusing sentencing and parole statutes enacted by the General Assembly in 1993 and 1996."
"We always are going to put the community at risk when we release convicted sex offenders," Kathie Kramer, spokeswoman for the Rape Assistance and Awareness Program, said.
The court ruling concerns state laws passed in 1993 and 1996 that attempted to delineate terms of mandatory parole for convicted sex offenders.
A Year-Long Battle
The state Court of Appeals ruled on March 2, 2000, that sex offenders who committed their crimes between 1996 and 1998 are not subject to mandatory parole and that their parole is limited to the unserved portion of their prison sentence.
On Sept. 18, 2000, the state Supreme Court extended the appeals court ruling to those who committed their crimes from 1993 to 1996.
The Supreme Court heard new arguments on the two rulings from the attorney general in March and on June 25 issued a new ruling, upholding the two earlier decisions.
On June 28, Salazar asked for a new hearing, which the court rejected on Monday.
The decisions do not affect the law requiring sex offenders to register, but will not be subject to the closer scrutiny they could have faced under lifetime parole.
The sex offenders being released from prison are those people who were returned to jail for supposed parole violations. Since they should not have been subject to parole, according to the court ruling, they could not have committed violations.
Information from ABCNews.com

VINE
A system called VINE is now available. As of today, (7-17-01) victims/survivors of 46 states and 780 counties throughout the U.S are eligible. VINE stands for Victim Information Notification Everyday. Victims/survivors of crime can register for AUTOMATIC NOTIFICATION when an inmate is released.
THE SYSTEM IS FREE TO THE USER AND DOES APPLY TO ASSAILANTS INCARCERATED IN DIFFERENT STATES.
The VINE service telephone number is: 1-888-331-8463
You will need either the inmate's name or prisoner I.D. number as this system allows you to use either one of these criteria to search for an inmate. If you have problems using this system, dial "0" and you will be connected to a live operator.
Anyone, within the U.S. may use this system; media, investigators or victims/survivors!!!
Courtesy of Napa County

Up To The Minute News


Together,
We Are Survivors

Graphics Thanks To:
Hallmark Cards
Microsoft HomePublishing2000
Corel Photo
Original Art by:
K. J. C. and S. M. G.
The material contained within this web site is the proprietary
property of K. J. C., and may not be
used or reproduced without permission.
Copyrightę 2001-2013 KJC. All rights reserved.